Take you to particularly unusual destinations where are rich and varied contrasts and beauties. Whether you rather charmed by the serenity and velvety scent of moss mat Zen gardens or tempted to share a special moment in a Shinto ritual, the old tradition was able to reach us, this country will offer a unique and exceptional experience that will leave you both exalted and dreamy. Especially, this ideal tour is to recommend for honeymooners or couples !
Hand in Hand
From 236,000YEN per person

Individual tour– Main dans la main (8 nights 9 days)


L'invitation au Japon


«Là, où tout n'est qu'ordre et beauté, luxe, calme et volupté»

Concept
Envolez-vous vers une destination particulièrement insolite, riche de contrastes et debeautés. Que vous soyez plutôt charmés par la sérénité et la senteur veloutée du tapis de mousse des jardins zen ou bien tentés de partager un moment privilégié lors d'un rituel shintô, dont la tradition millénaire a pu parvenir jusqu'à nous, ce pays vous offrira uneexpérience unique et exceptionnelle, qui vous laissera à la fois exalté et rêveur. Un circuit idéal pour les jeunes mariés ou les couples souhaitant se ressourcer!
Programme et Itinéraire
Jour 1 :Osaka(KIX)- Kyoto
Arrival to Kansai International Airport, where you will be greeted by your English-speaking guide. Transfer to Kyoto by JR.
At your traditional accommodation located in the heart of Kyoto, you will be felt a good old days of Kyoto.
After lunch in a restaurant what is a local specialty cuisine in this area, transfer to visit his oldest Shinto shrine.
And then, take a break to relax in a tea room. You will have an experience of feeling where is a great peace place in a traditional garden to some Japanese sweets with green tea what is called "Macha".
City to Visit:Kyoto
Accomodation:one night stay in Kyoto
 Discovery Kyoto and its traditional architectures
Meet your guide and then, transfer by bus to the eastern part of Kyoto.
It's located in the heart of a garden where is ideal set, and enjoy the quiet getaway.
For your breakfast, order a morning rice porridge at the traditional restaurant which has a history of nearly 400 years when started in the early Meiji period. http://hyotei.co.jp/
Visit of the "Zen" in Japanese Buddhism (the Rinzai School) of "Nanzenji" which is consists of 15 temples and an impressive entrance with an incomparable view in the city.
Optional: Zazen meditation experience or Calligraphy "Shakyo" in the temple.
The "Philosopher's Path" in Kyoto is a wonderful place to stroll that leads to Ginkakuji what is the famous Silver temple, which you can visit before or after lunch.
Walk in the street with antique shops "Teramachi Street" where is named about 400 years ago by Hideyoshi Toyotomi. Discover the world of traditional Japanese arts.
Optional :
 Tea ceremony with Maiko.
or
 Booking a beauty salon in an old restored house (machiya) to enjoy a shiatsu massage, oil treatments, etc.
City to Visit: Kyoto
Accommodation: one night stay in Kyoto
Jour 3 : Kyoto (Arashiyama)

Walking tour in the little town "Arashiyama"
Arashiyama is a small town where is located at the foot of mountains which encircle Kyoto. A charming mini-tram crosses the western part of the ancient capital.
Visit this small town on foot. There are opportunities to observe the surrounding nature and to walk in the famous bamboo forest.
Optional:
Visit by a jinrikisha which is the traditional rickshaw.
Cruise "Hozugawa River" on a traditional boat that can carry about twenty people through gorges and the impressive fast current (will be changed depend on the weather condition on the day.).
City to Visit: Kyoto(Arashiyama)
Accommodation: one night stay with half board in Kyoto
Jour 4 : Kyoto- Tokyo    Discover the Northwest part of Kyoto

After breakfast, start the tour for the north-west part of Kyoto.
Walk to two temples with enjoying in the morning, one is the Ryoanji where is a famous for Zen garden, and another is the Kinkakuji which is covered of gold color.
Return to your accomodation and picked your baggages. In Kyoto Station, recommend of buying a Bento what is a traditional lunch box for your lunch on the train.
Transfer to Tokyo in the Shinkansen blullet train.
Arrival at Tokyo Station, then transfer to your hotel by taxi or train. You will see the very new and modern business districts in Tokyo.
Optional: Spectacle night cruise by private car: It will enchant you by the magic of spectacle. Crossing the artificial and romantic Odaiba, Kawasaki, Yokohama. Return to the hotel.
City to Visit: Tokyo
Accommodation: one night stay with breakfast in Tokyo
Walk along the Kanda river, where is enjoyed that there are a long row of cherry blossom (which is the end of March to early April flowering season only). And then, move into the Tokyo National Museum which has several collections of Japanese arts.
Transfer to Asakusa by train, where is very "retro" covered with the old market street since the Edo period, then visit Sensoji which is the oldest temple in Tokyo, it was founded in 628.
Passages in Ginza where is a shopping mecca, that is standing with many Japanese and international brands boutiques side by side.
Return to the Hotel.
City to Visit: Tokyo
Accommodation: one night stay with breakfast in Tokyo
Jour 6 : Tokyo  Tokyo neighborhoods

Go to the Meiji-Jingu shrine at first, and then walk on Takeshita and Omotesando street. There are some cafes, so you can relax on these streets, too.
Continuing the street to Aoyama where you will discover art galleries and exhibitions by contemporary Japanese artists.
Transfer to Shibuya, this area crowded by the younger generation. The Shibuya Crossing in front of the Shibuya station is known as " The Scramble ". You should be very impressed to watch it!
For free time to enjoy, it has a photo booth called Purikura, a karaoke room, etc.
It might ask us some choices in the late afternoon if you needs advices. For example, an old style bar for drinking or watching a Robot show is Shinjuku and so on.
Options:
Private tea ceremony in the Japanese garden.
Private photo shooting with wearing wedding kimonos (garden, or shrine with praying to wish for the safety of your family by priest. )
City to Visit: Tokyo
Accommodation: one night stay with breakfast in Tokyo
Jour 7 : End of the stay
Transfer to Narita International Airport by shared car.
Departure to your country.
Petit déjeuner à l'hôtel.
Excursion d'une journée à Nikko , à deux heures de train de Tokyo, est à la fois une merveille de beauté naturelle et le site d'incontournables chefs-d'œuvre architecturaux du Japon. Il fait partie du Patrimoine Mondial de L'UNESCO depuis 1999. Le sanctuaire de Toshogu, terminé en 1636 et dédié au fondateur du shogunat des Tokugawa, est le point de convergence de la ville. La plupart des édifices des sanctuaires ainsi que de nombreux éléments ont été classés Trésors Nationaux ou Patrimoine culturel important. Le Pont Shinkyo ou « Pont Sacré » s'élève avec grâce au dessus de la rivière Daiya. Le Lac Chuzenji resplendit particulièrement début mai, avec l'éclosion en couleur des fleurs de cerisiers et en octobre, lorsque les feuilles revêtent leur parure automnale. A 5 mn de marche de l'arrêt de bus Chuzenji Onsen se trouve la cascade Kogen, une des plus célèbres du Japon. Vous pourrez vous approcher de la cascade grâce à un ascenseur. Une autre promenade de 15 mn vous mènera au Temple de Chuzenji qui abrite la fameuse statue de la Déesse aux Mille Bras.
Hôtel à Tokyo.

Jour 8 : Tokyo -Hakone-Tokyo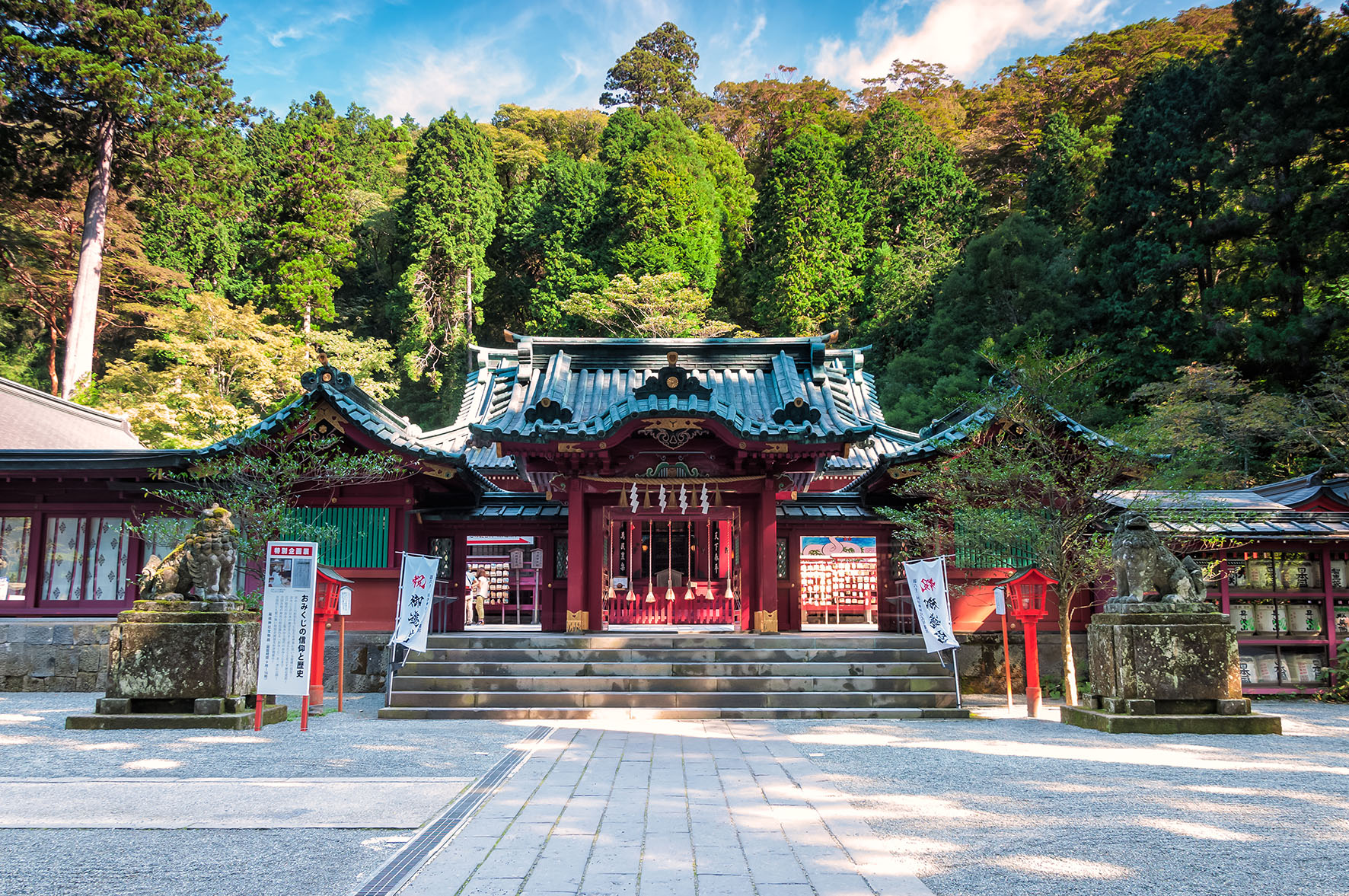 Petit déjeuner à l'hôtel.
Excursion d'une journée à Hakone.
Déplacement à Hakone en train à partir de la gare de Shinjuku.
Visite des principaux sites de Hakone – Croisière sur le lac Ashi qui offre une vue imprenable sur le Mont Fuji. – Owakudai surnommé la Grande Vallée Bouillante, où jets de vapeur d'eau et de souffre jaillissent de crevasses dissimulées dans la roche. – la reconstruction de l'ancien poste de contrôle qui assurait la sécurité de la ville d'Edo (actuelle Tokyo), alors capitale shogunale.
Hôtel à Tokyo.
Petit déjeuner à l'hôtel.
Départ en train jusqu'à l'aéroport de Narita et départ du Japon .
Le prix comprend :
les 6 nuits d'hébergement en hôtels avec le petit-déjeuner (jour 1-7, 9), base chambre double occupée par deux personnes, les 1 nuits en ryokan avec demi-pension (jour 8)
Transfert en navette à l'hôtel de l'aéroport de Kansai International Airport
Hakone Pass  2 jours
Pass JAPAN RAIL 7 jours
Kansai thru pass 3 jours
les guides francophones et l'accompagnateur bilingue (jour 2, 5)
Maiko tea ceremony à Kyoto
Le prix ne comprend pas :
le vol Paris – Tokyo / Osaka – Paris
les pourboires et dépenses personnelles
le supplément pour chambre individuelle
l'assurance du voyage
le frais de déplacement entre l' hôtel et  la gare
les entrées des sites ou musées